Mykje av min ammunisjon i løpet av vinteren går med på å hakke laus på snøen, kulda, og all den skit slike uting fører med seg. Når eg no sit her på tampen av årets første vårmånad, kikar ut vindauget og ser alt anna enn snø, må eg nesten innsjå at den bitre tid er over. Det er nesten med ei litt nostalgisk tåre i augekroken eg må vedgå at grinete ord om snø og kulde no bør forbli historie, og vårkåt og leiken galskap må ta over livet til både den eine og den andre.
Mars har strengt tatt vore ein ganske midt på treet månad, sånn bortsett frå at siste rest av snø flykta frå låglandet. Eg og Lasse hadde ein mildt sagt utfordrande tur til statane, med jetlag og sjukdom og alt for mykje mat, og her heime har vi vassa i både perler og gråstein.
Mass Effect 3 fekk machohelten Marius til å grine tårer av glede, SSX gav meg ein rus utan like, medan Blades of Time fekk vår eurosentriske skribent Magnus til å fråde om kjeften av raseri. Sånn kan det gå, men no er april framfor oss, og vi har mykje godt snop i vente.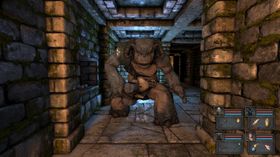 Legend of Grimrock
Plattform: PC Ute: 11. april
Gleda av å innleie vår flotte samling får Legend of Grimrock, eit grottekravlespel i klassisk stil. Tenk Lands of Lore, Wizardry og Eye of the Beholder og du burde skjøne teikninga ganske kjapt. Utviklarane hos Almost Human har gått hardt til verks for å skape eit spel som held seg tru mot den tradisjonsrike sjangeren der du vandrar gjennom huler og grotter ved å gå reise frå det eine rommet til det andre via piltastane. Målet er sjølvsagt å brutalt slakte ned mange monster, og plukke opp gjenstandar for å bli sterkare.
Det heile framstår kanskje litt statisk om vi ser tilbake på eldre spel i sjangeren med sine stive 2D-sprites. Med moderne og spenstige grafikk som får fram dei fiendtlege beista på ein måte aldri før sett i sjangeren, er det derimot all grunn til å tru vi har ein saftig godbit i vente.
Les meir om Legend of Grimrock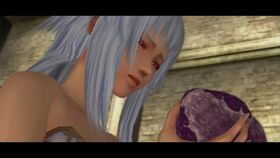 Pandora's Tower
Plattform: Wii Ute: 13. april
Pandora's Tower er det siste av det som har vore eit solid lite rollespelpush frå Nintendo den siste tida. Det starta med Xenoblade Chronicles i august, fortsette med The Last Story i februar, og sluttar no med actionrollespelet Pandora's Tower i april.
Pandora's Tower er derimot ikkje noko tradisjonelt rollespel. Her er det action for alle penga, og spelet har nok meir til felles med God of War enn Final Fantasy, men du kan vere trygg på at dette blir umiskjenneleg japansk. Vi følgjer Ende og Ceres på eit ganske snodig eventyr. Ceres har blitt forbanna med stygg trolldom, og er nøydt til å ete kjøtet frå monster i tretten forskjellige tårn for å unngå å bli eit monster sjølv. Du kan sikkert tenkje deg kva din jobb blir.
Les meir om Pandora's Tower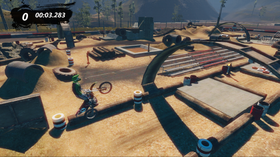 Trials Evolution
Plattform: Xbox 360 Ute: 18. april
Dette er kanskje den mest smertefulle serien gjennom tidene. Å sjå kva som skjer med desse stakkars motocrossførarane når alt går skeis er rett og slett vondt for sjela. Trials-serien bryt med all fornuft, og eg vil tru at til og med den spirituelle veganeren Steve-O vil setje foten ned ved desse utfordringane. Der alle ser ut til å tru ting må vere lett og tilgjengeleg, er Trials blodig vanskeleg og kan få vaksne menn til å grine som svært små born.
Evolution held fram der det førre spelet stogga. Du sender sykkelen din av garde, og må navigere den ved hjelp av fysikk for å sørgje for at den kjem seg gjennom tidvis groteske hinderløyper. Nytt av dagen er at du endeleg får ta turen utendørs, og utviklarane hos Red Lynx har skrudd saman eit åtte kvadratkilometer stort område vi kan boltre oss på. Det er berre å finne ein solid hjelp, og lage ein snarveg på mobilen til nødsentralen, for her blir det harde fall.
Les meir om Trials Evolution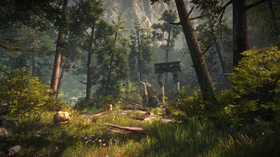 The Witcher 2: Assassins of Kings: Enhanced Edition
Plattform: PC, Xbox 360 Ute: 19. april
CD Project Red er ein fin gjeng. Som med det første Witcher-spelet kjem dei no med ein opprusta versjon av The Witcher 2, og om du allereie eig PC-versjonen blir den heilt gratis. Her snakkar vi oppgraderingar og forbetringar, samt nytt innhald som skal vare deg i godt over fem timar. Det er ikkje gale for ei gratis utviding.
Fullt så gratis blir naturlegvis ikkje Enhanced Edition for Xbox 360-eigarar, men om vi skal døme frå den knappe timen eg hadde med spelet i San Francisco tidlegare i månaden, er det gode grunnar for å opne lommeboka. Kampsystemet glir perfekt over på handkontroll, grafikken er polert til breistepunktet, og den nye Arena-modusen let deg perfeksjonere kampferdigheitene dine, samtidig som du kan finne ut kva kombinasjonar av eigenskapar som passar deg best.
Les meir om The Witcher 2: Assassins of Kings: Enhanced Edition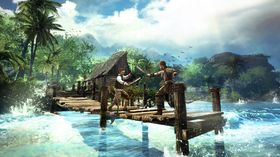 Risen 2: Dark Waters
Plattform: PC Ute: 27. april
For ein gongs skuls kjem PC-versjonen før konsollversjonane. Det hender ikkje ofte, om det nokon gong skjer, men så er tyske Pirahna Bytes ein utviklar med solide røter i PC-verda. Risen 2: Dark Waters blir derimot eit ganske anna spel enn sin forgjengar.
Her er det piratar som gjeld, og du får ditt eige skip slik at du kan sigle frå øy til øy medan du utforskar den massive verda, og grev deg lengre inn i den kompliserte historia. Kampsystem får seg samtidig ein solid oppsving der eit ekstra prosjektil i form av ei papegøye bør bli ein høydare for mange. Vår ven Mikael var derimot mest imponert over grafikken då han studerte spelet under E3-messa i fjord, og meinte det tidvis var rørande vakkert.
Les meir om Risen 2: Dark Waters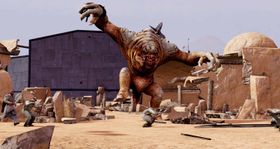 I ein galakse, langt, langt borte
Som vanleg kjem det mykje meir enn som så. Det einaste som luktar litt surt er eigentleg påska som kjem alt for tidleg i år. Det er liksom ingen spel som rekk kome ut før den gode ferie er over. Om du skulle ha betre ting å ta deg til enn å prøve lukka på påskefjellet har vi derimot ei litt rar samling med spel i vente den første veka i månaden.
Til dømes dukkar omsider Star Wars Kinect opp på Xbox 360, og for alle (rekk opp handa er du snill) som har lengta etter å veive med henda i den tru at dei faktisk har ein lettsabel (om vi skal sitere norske oversettingsgullkorn korrekt) mellom henda, får dei sjansen til det no.
Om sablar ikkje er godt nok for Kinect-kameraet ditt, kan diabolsk baseball frå Suda51 vere meir greia di i det absurde spelet Diabolical Pitch. Berre frå Japan kjære lesar, berre frå Japan.
Utover dette kjem snart Devil May Cry-spela frå PlayStation 2-epoken snart i HD-utgåver, EA stiller opp med fotball i UEFA 2012, og om du likar blod og mørk fantasi kan då dele kroppar i to og tre i Bloodforge frå britiske Climax. Om dette ikkje er godt for deg blir det snart mykje meir valdeleg mutantmoro i Prototype 2.
Valet er ditt. Berre ikkje gløym å nyte sola litt no når varmen endeleg er i ferd med å gjere seg kjend!